Welcome on board our traditional Icelandic oak boat for a classic 2.5-hour whale watching tour from the welcoming village of Árskógssandur.
Welcome to Árskógssandur
The picturesque village of Árskógssandur is located on the western shore of Eyjafjörður, Iceland, offering breathtaking views of the surrounding mountains and the tranquil waters of the fjord.
Top things to do in Árskógssandur
Árskógssandur is home to the excellent Beer Spa featuring the unique Beer Baths, an outside wooden hot tub, a sauna and the wonderful seaside-view restaurant Mýri. In Árskógssandur you can visit Kaldi – Iceland's first micro brewery, for a guided tour and a taste of local beer. For a stay in Árskógssandur we recommend the new and cozy Hótel Kaldi, located right in the heart of this charming little village.
From the harbour in Árskógssandur, you can also jump on the ferry to the beautiful Island of Hrísey. The journey takes around 15 minutes each way. In Hrísey, you can stroll around the little harbour village, go hiking and bird watching around the Island, visit the shark museum or take a sightseeing tour by tractor!
Join North Sailing for a classic whale watching tours around the scenic Eyjafjörður.
Enjoy the ultimate beer experience in a wooden hot tub filled with local beer.
Try traditional Icelandic food with breathtaking ocean views across the fjord.
Visit Iceland's first microbrewery for a guided tour and tasting of the local Kaldi beer.
Experience comfort and charm at the new and cozy Hótel Kaldi down by Árskógssandur harbour.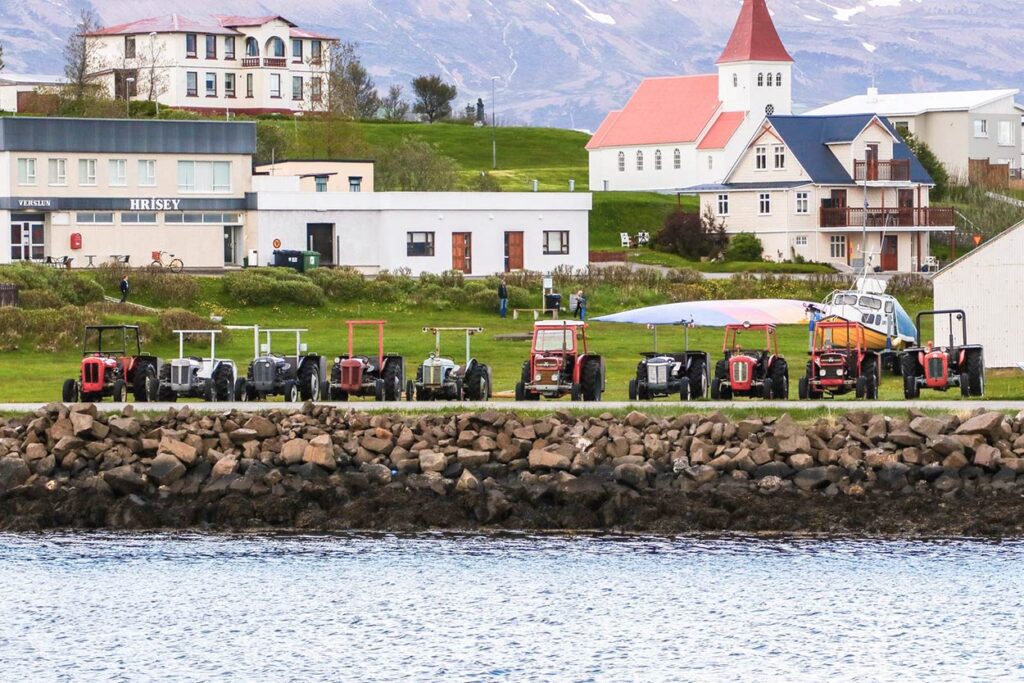 Take the ferry from Árskógssandur and visit the tranquil island Hrísey, a true natural treasure.
Welcome to Árskógssandur